← Blog Home
GDRA Race #3 Presented by Homer Tree Service Results
By CJ Williams - GDRA Organizer / Track Relations
"Rocket" Ron Bochenek – Winner 8.60 Class
Ken Kendall – Runner-Up 8.60 Class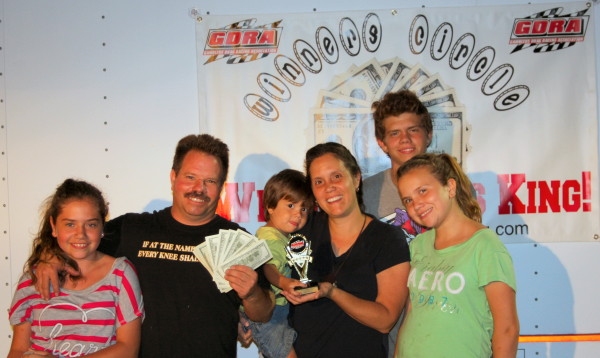 Mark Zierer – Semi-Finalist 8.60 Class
Paul Pommerich – Semi-Finalist 8.60 Class
Mark Zierer and Mike McClure (Outlaw Graphic Designs) – 8.60 Class Outlaw Graphic Designs #1 Qualifier Award
Rocket Ron Bochenek took home $2150 in cash for picking up the win.  Ken Kendall received $850 for his Runner-Up performance.  Mark Zierer and Paul Pommerich each ended the night with $200 for their Semi-Finalist positions this evening.  Mark Zierer also grabbed the Outlaw Graphic Designs #1 Qualifier Award.
Gamblers Drag Racing Association Director of Media Relations www.GamblersDragRacing.com
This entry was posted in
Shows & Events
and tagged
Gamblers Drag Racing
,
GDRA
. Bookmark the
permalink
.